PCT procalcitonin rapid test kits for 
                                medical diagnostic
Methodology                                                                                 
Fluorescence Immunoassay                       
Applicable Instruments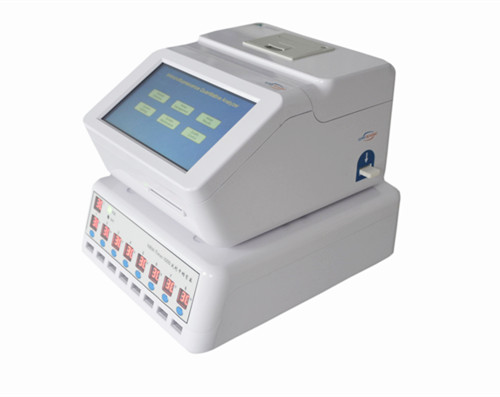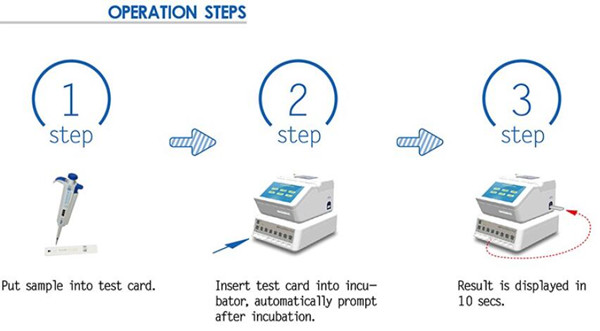 Product Description                                                                  
Intended Use:

1.This kit can be used in quantitative detection in human 
   whole blood for PCT levels.
2.This test is used as an auxiliary diagnosis of sepsis, severe acute 
    pancreatitis and its main complications.
Package                                                                                           

Test card: Aluminum foil pouch 1pc/bag, desiccant
Package size: 25pcs/box
Principle of the Procedure                                                     
The reagent is based on immunefluorescence sandwich assay to detect PCT concentrations
 quantitatively. Using the pipette provided, drop sample into the sample well. During 
testing, specimen reacts with the particles coated with anti- monoclonal antibody I which
 has conjugated with fluorescent latex. The mixture migrates upward on the nitrocellulose
 membrane by capillary action to react with anti-PCT monoclonal antibody II on the test 
line. The intensity of fluorescent antibody signal reflects the amount of captured PCT. 
Immunefluorescence quantitative analyzer produced by our company can detect the 
concentration of PCT in the sample.
Assay Methods                                                                             
1. Take out the test strip at room temperature(10-30℃), flat on the table;
2.Take out the IC card, put the IC card on inductive position of analyzer,
the system will read the information of standard curve in the card and save 
in the analyzer;
3. Select the curves are consistent with the project and the batch number 
information before testing;
4. Pipe sample in each test strip, wait 15 minutes at the room temperature, and 
then insert into theanalyzer for testing, the instrument automatically calculate
and show  the sample concentration.
Product show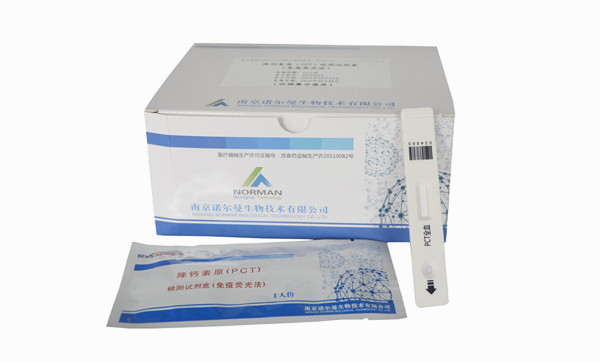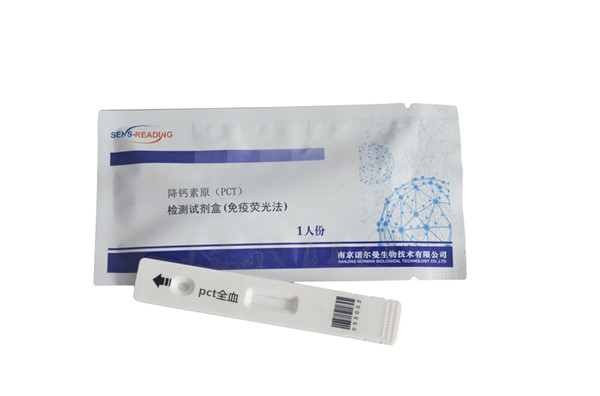 Main components                                                                      
1.Test kit contains: 25 test cards and an IC card
The test card is composed of plastic shell and test strip;
The main components of test strip: Sample pad, 
Whole blood pad, bonding pad, nitrocellulose membrane, 
absorbent paper, PVC base plate;
2. dilution 1 bottle (3 ml/bottle): composed of phosphate, 
surface active agent, etc. PH=7.4±0.2;
Materials required (but not provided):
1.Timer
2.Centrifuge tube
3.Pipette
4.Disposable tips
Quality Control                                                                            

Using immunefluorescence quantitative analyzer and relevant X
detection kit (immune-fluorescence techniques) to test quality control 
product, repeat 10 times, calculate average and CV. 
If CV≤15%, the average in the scale of quality control product,
then the instrument and reagent performance can meet requirements.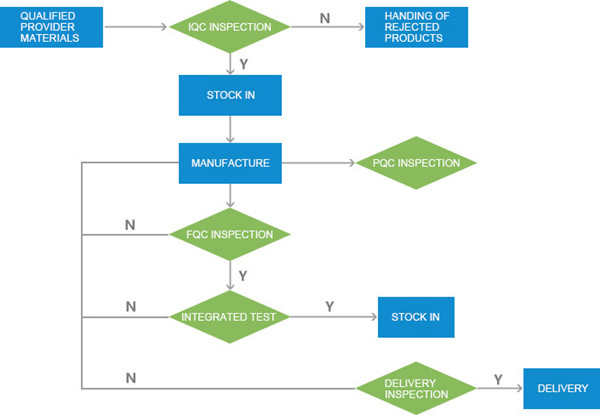 Part Of  Workshop                                                                     

Nanjing Norman Biological Technology Co., Ltd is dedicated to R&D and 
manufacturing of automated chemiluminescence system. Founded in 2008, 
Norman biological has been upholding the idea that R&D shapes future ,and
concentration determines success. Ever since the beginning, Norman has been 
focusing on developing and manufacturing  chemiluminescence and
immunofluorescence reagents.
Norman's manufacture center is located in the Yuhua District and owns an over
2,000m2 GMP-approved clean workshop. The R&D base, which is over 2,000m2
is located in state-level new Jiangbei district. Now there are over 100 R&D 
engineers, 40% of which hold a PhD or master's degree.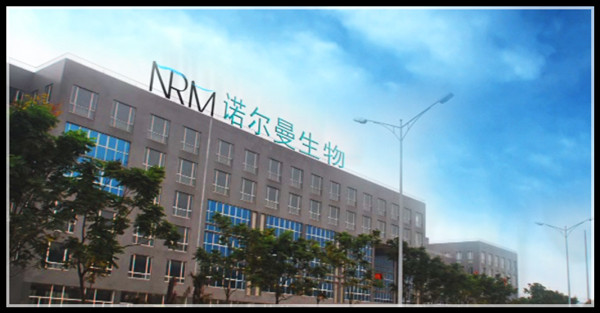 Agent Wanted                                                                              

If you are interested in working with us, please feel free to contact.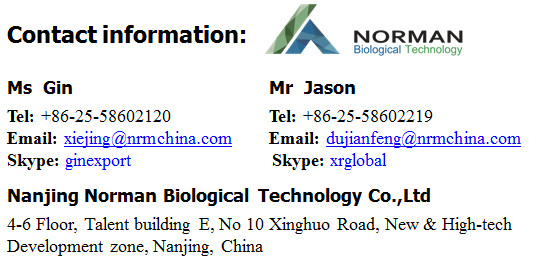 Why us                                                                                            
Manufacturer and Exporter for nearly 10 years with self R&D Research Center;

Professional After-Sale service with On-site support worldwide; 

CE/ISO13485 Certifications

OEM and ODM are available !