Kidney Function Quantitative NAGL Test Kits
Kidney Function Quantitative NAGL Test Kits
Brand :Norman
Product origin :China
Delivery time :In one month
Supply capacity :1000000/month
Diagnostic Test Kits For β2-MG Assay
The test kit is primarily for the in vitro quantitative determination of procalcitonin(β2-MG) content in human blood serum and urine.
Diagnostic Test Kits For β2-MG Assay:
Methodology:Fluorescence Immunoassay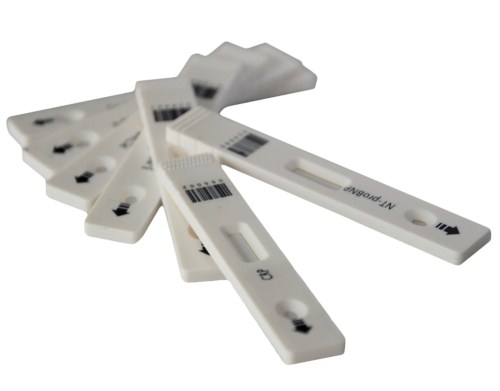 General Name:β2-MG Test Kit(Immunofluorescence)
Package:
1. Test card: Aluminum foil pouch 1pc/bag, desiccant
2. Package size: 25pcs/box
Intended use:
The test kit is primarily for the in vitro quantitative determination of procalcitonin(β2-MG) content in human blood serum and urine. As the composition of leucocyte antigen, β2-MG exists in all of the nucleated cells. β2-MG releases into blood little and continuously. It is filtrated completely in kidney and reabsorbed and degraded in kidney tubules. Its concentration is low and steady in blood serum of healthy people. The activity of immune system enhancing cause β2-MG release rate rises up, which makes serum concentration goes up. Therefore, β2-MG release rate in blood serum is a sensitive index which reflects the filtration ability of glomerulus. Kidney tubules injury can cause β2-MG concentration goes up, so it is a good way to determine β2-MG concentration in urine for diagnosing , tracking and evaluating tubular interstitial renal damage.
B2-MG Serum/urine specs:
| | |
| --- | --- |
| Methodology | Fluorescence Immunoassay |
| Specimen | serum/urine |
| Measuring range | 0.1-20mg/L |
| Cut-off value | 0.1mg/L |
| Reaction time | 15 minutes |
| Shelf life | 12months |
Clinical Significance:
Samplereference range (mg/L)
Serum: 1.01-2.97
Urine: 0.10-0.30
Product advantage:
1. Strong anti-interference ability
2. Different sample types: serum, urine
3. Wide test range:0.1-20mg/L
4. High sensitivity,
5. Good repeatability
6. Single sample test or batch test
Related Products:
1. Inflammation/Infection: PCT(whole blood), PCT (surum), hs-CRP
2. Cardiovascular: NT-proBNP, D-Dimer,cTnI,CK-MB, MYO
3. Nephropathy: NAGL, RBP,Cys-c, mAlb, B2-MG
4. Gastrosis: PG I / PG II / PGR/ HP/ FOB
5. Rheumatism: RF
6. Diabetes: C-Peptide
About Us:
Being an expert in automated chemiluminescence analysis , Norman owns independent and completed intellectual property rights,
and its products provide top-notch sensitivity, precision and accuracy . Thanks to the self-developed antigens and self-manufactured antibodies, Norman's products features minimized intra-and inter- batch difference.After 8 years development, Norman is now on
the fast track. An over 30,000m2 global R&D center is in construction, and will hold more than 1,000 R&D engineers in the future.
R&D shapes future, and concentration determines success. Driven by the commitment to "provide complete solution to improve human health", Norman will consistently do its utmost to drive the IVD industry forward and contribute more to human health.
Agent Wanted: If you are interested in working with us, please feel free to contact.
Please feel free to give your inquiry in the form below. We will reply you in 24 hours.