Rapid Test Poct Procalcitonin PCT Fluorescence Immunoassay FIA Reagents
Rapid Test Poct Procalcitonin PCT Fluorescence Immunoassay FIA Reagents
Brand :Norman
Product origin :Jiangsu, China (Mainland)
Delivery time :Two weeks after payment
Supply capacity :1,000,000.00/Month
Near patient-testing PCT test kits:
1. Peripheral blood testing, preferred in pediatrics;
2. Convenient and accurate solution of bacterial infection.
Near patient-testing PCT test kits:
Methodology Fluorescence Immunoassay:
Fluorescence is the emission of light by a substance that has absorbed light
or other electromagnetic radiation.It is a form ofluminescence. In most cases,
the emitted light has a longer wavelength, and therefore lower energy, than the
absorbed radiation.
Procalcitonin PCT: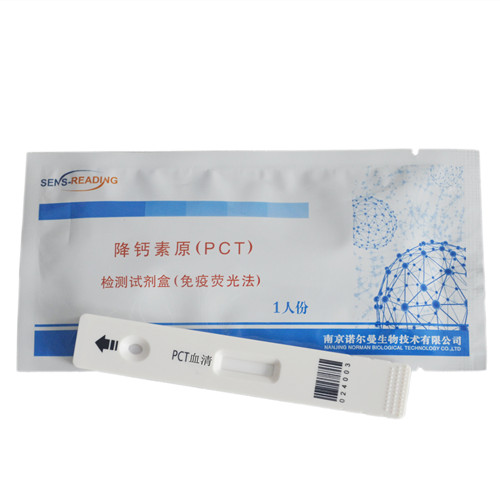 Procalcitonin (PCT) is a peptide precursor of the hormone calcitonin, the latter beinginvolved with calcium homeostasis. It is composed of 116 amino acids and is produced by parafollicular cells (C cells) of the thyroid and by the neuroendocrine cells of the lung and the intestine.

The level of procalcitonin in the blood stream of healthy individuals is below the limit of
detection (0.01 µg/L) of clinical assays.
The level of procalcitonin rises in a response to a proinflammatory stimulus, especially
of bacterial origin. In this case, it is produced mainly by the cells of the lung and the
intestine. It does not rise significantly with viral or non-infectious inflammations.
With the derangements that a severe infection with an associated systemic response
brings, the blood levels of procalcitonin may rise to 100 µg/L. In serum, procalcitonin
has a half-life of 25 to 30 hours. Remarkably the high procalcitonin levels produced
during infections are not followed by a parallel increase in calcitonin or a decrease
in serum calcium levels.
Diagnosis and prognosis of sepsis:

Measurement of procalcitonin can be used as a marker of severe sepsis caused by bacteria
and generally grades well with the degree of sepsis,although levels of procalcitonin
in the blood are very low.
PCT has the greatest sensitivity (85%) and specificity (91%) for differentiating patients
with systemic inflammatory response syndrome (SIRS) from those with sepsis,
when compared with IL-2, IL-6, IL-8, CRP and TNF-alpha.
Evidence is emerging that procalcitonin levels can reduce unnecessary antibiotic prescribing
to people with lower respiratory tract infections.
Currently, procalcitonin assays are widely used in the clinical environment.
Product Description
1. The test kit is primarily for the in vitro quantitative determination of procalcitonin(PCT)
content in human whole blood;
2. Procalcitonin(PCT),also known as the Pre calcitonin,is composed of 116 amino acids.
3. PCT is a specific marker of inflammatory disorder with bacterial infection and a significant
indicator of SIRS and sepsis caused by bacterial infection, especially for severe sepsis and
septic shock sepsis.
Principle of the Procedure:

The reagent is based on immunefluorescence sandwich assay to detect PCT concentrations
quantitatively. Using the pipette provided, drop sample into the sample well.
During testing, specimen reacts with the particles coated with anti- monoclonal antibody I
which has conjugated with fluorescent latex. The mixture migrates upward on the
nitrocellulose membrane by capillary action to react with anti-PCT monoclonal antibody II
on the test line.
The intensity of fluorescent antibody signal reflects the amount of captured PCT.
Immunefluorescence quantitative analyzer produced by our company can detect the
concentration of PCT in the sample.
Applicable Instruments:

The test has to be performed on the series of immunofluorescent analyzer from Nanjing Norman Biological Technology Co. Ltd.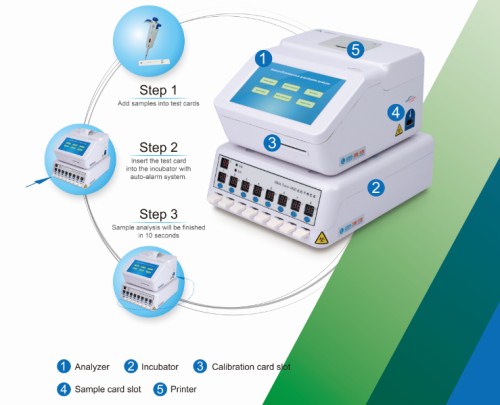 Main components:
General Name:PCT Test Kit(Immunofluorescence)
Test card: Aluminum foil pouch 1pc/bag, desiccant
Package size: 25pcs/box
Performance Indicators

1. Detection limit:<0.05ng/ml
2. Linear range:0.05-100ng/ml,the linear correlation coefficient r should not be less than
0.9900 in this range.
3. Accuracy should be in accordance with one of the following requirements:
a) The relative deviation of the measurement results should not be greater than 20% when
used reference substance as a sample for testing.
b) When using comparative test method to test the kit, there should be that the results of
the correlation coefficient r≥0.975, relative deviation≤20%.
4. Repeatability:CV≤15%.
5. Difference between batches:CV≤15%.
Product Show: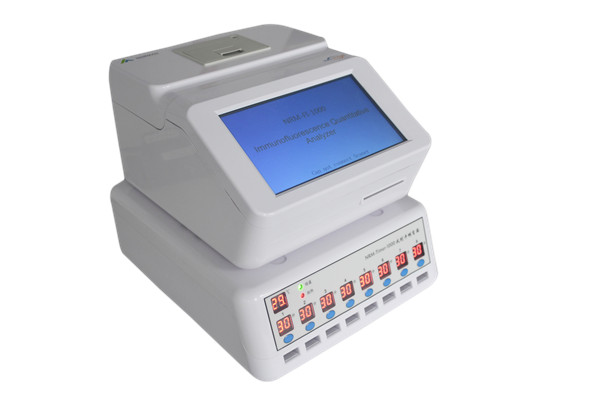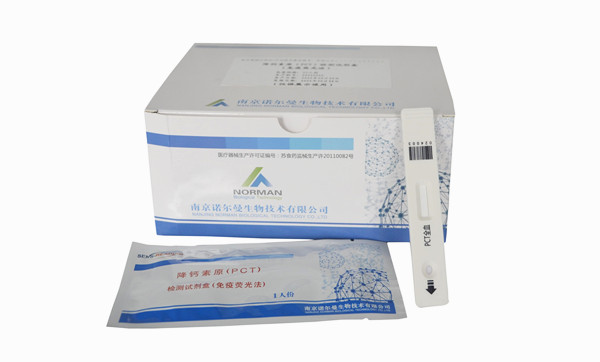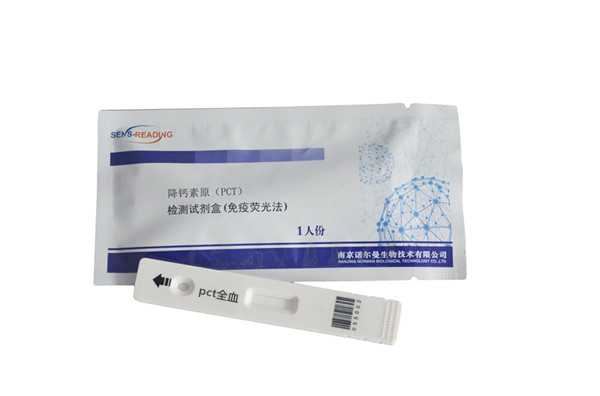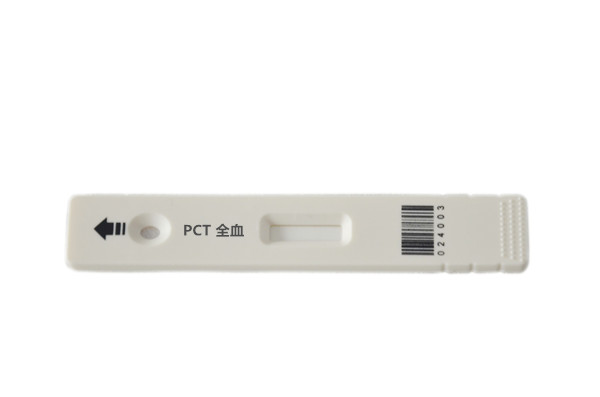 Exhibition Show: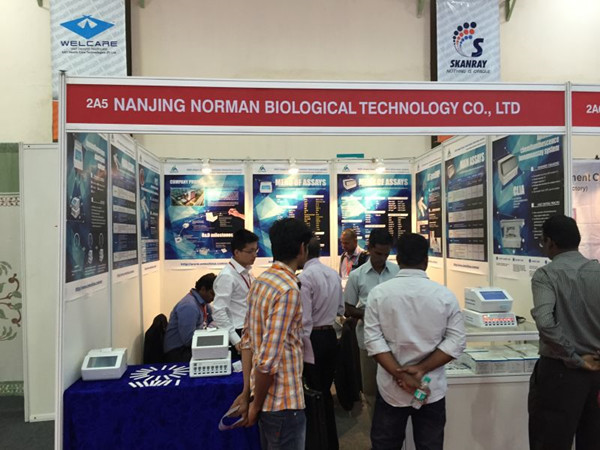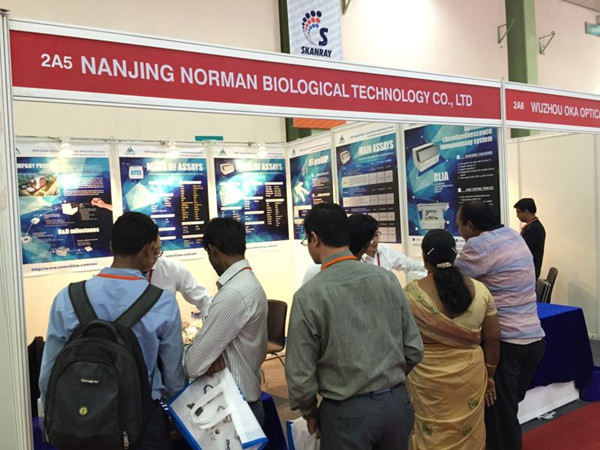 Part of work shop:
Nanjing Norman Biological Technology Co., Ltd is dedicated to R&D and manufacturing
of automated chemiluminescence system. Founded in 2008, Norman biological has been
upholding the idea that R&D shapes future ,and concentration determines success.
Ever since the beginning,Norman has been focusing on developing and manufacturing
chemiluminescence and immunofluorescence reagents.
Norman's manufacture center is located in the Yuhua District and owns an over 2,000m2
GMP-approved clean workshop.
The R&D base, which is over 2,000m2 , is located in state-level new Jiangbei district.
Now there are over 100 R&D engineers, 40% of which hold a PhD or master's degree.

Certifications: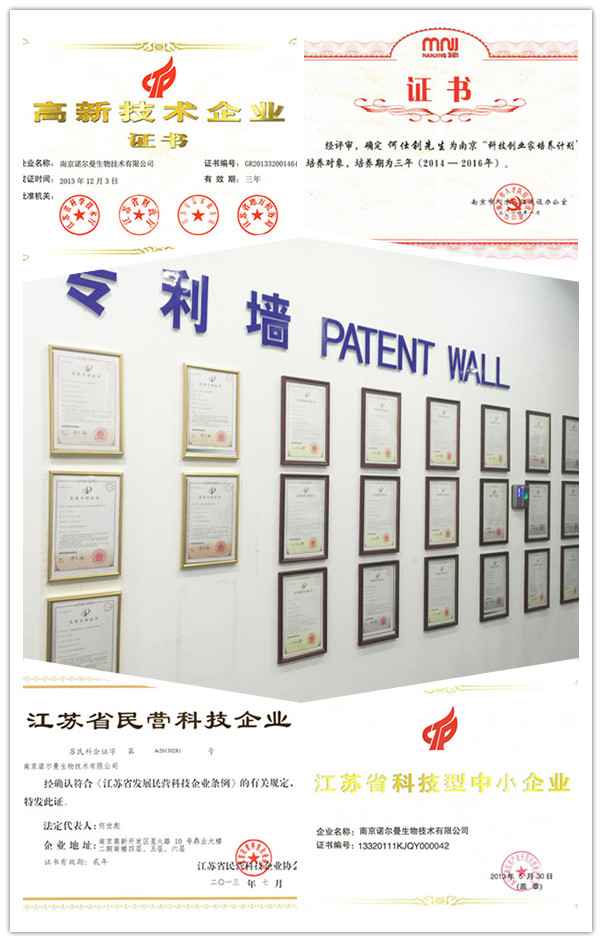 Inflammation/Infection:PCT(whole blood), PCT (surum), hs-CRP
Cardiovascular: NT-proBNP, D-Dimer cTnI,CK-MB, MYO
Nephropathy: NAGL, RBP,Cys-c, mAlb, B2-MG
Gastrosis: PGⅠ, PGⅡ, PGR, HP,FOB
Rheumatism: RF
Diabetes: C-Peptide
About us

Powered by advanced technology and excellent talents in the IVD field, Norman has been
consistently improving its innovation platform , and increasing R&D investment.
Self-innovation, combined with long-term strategic cooperation with universities and

research institutes and with outsourced technologies,ensures consistent improvement on
product quality.
Norman's R&D field has covered instruments, reagents, and raw materials, and has been
entrusted by the Nanjing government to build a R&D center specialized in biological
chemistry and immunity diagnosis.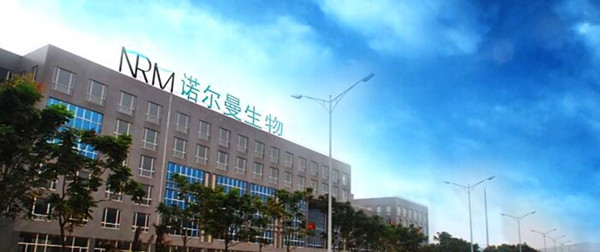 Up to now,Norman has acquired over 20 patents.Being an expert in automated
chemiluminescence analysis , Norman owns independent and completed intellectual
property rights, and its products providem top-notch sensitivity, precision and accuracy.
Thanks to the self-developed antigens and self-manufactured antibodies, Norman's
products features minimized intra-and inter- batch difference.
After 8 years development, Norman is now on the fast track. An over 30,000m2 global
R&D center is in construction, and will hold more than 1,000 R&D engineers in the future.
R&D shapes future, and concentration determines success.
Driven by the commitment to "provide complete solution to improve human health",
Norman will consistently do its utmost to drive the IVD industry forward and contribute
more to human health.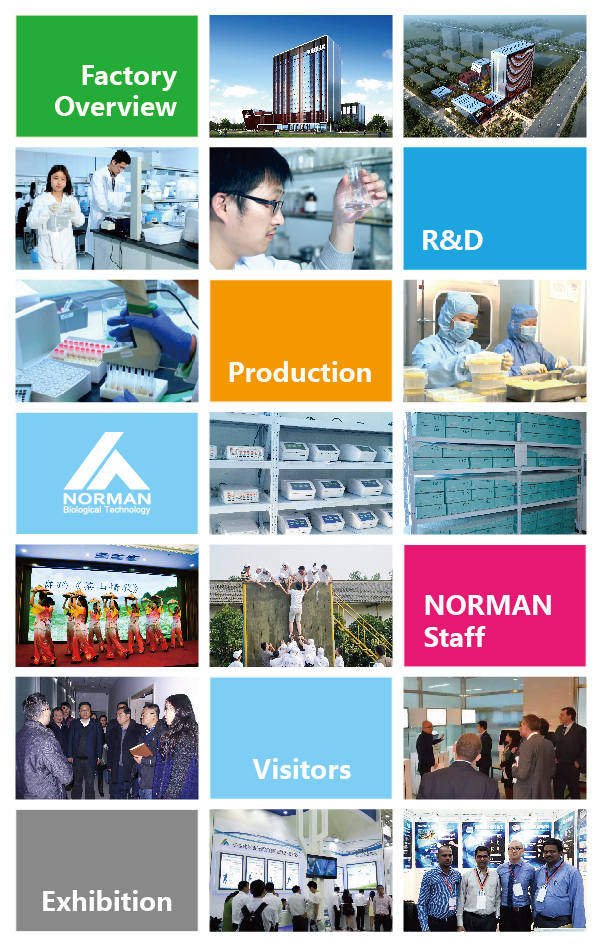 Agent Wanted:If you are interested in working with us, please feel free to contact.
Why Us:
1. Manufacturer and Exporter for nearly 10 years with self R&D Research Center;
2. Professional After-Sale service with On-site support worldwide;
3. CE/ISO13485/SGS/RoHS Certifications!
OEM and ODM are available !
Get the latest price? We'll respond as soon as possible(within 12 hours)