Pointcare Procalcitonin Bedside Testing Kits
Pointcare Procalcitonin Bedside Testing Kits
Brand :Norman
Product origin :Nanjing of China
Delivery time :twe weeks after payment
Supply capacity :1000 units per month
Pct Whole Blood Poct Bedside Testing Quantitative In Vitro Diagnostic Kits
1. PCT is a powerful auxiliary tool for infectious diseases diagnosis, stratification,
2. therapy and prognostic evaluationas well as reasonable use of antibiotics.
PCT procalcitonin rapid test with reagent medical diagnostic test kits:
Methodology: Fluorescence Immunoassay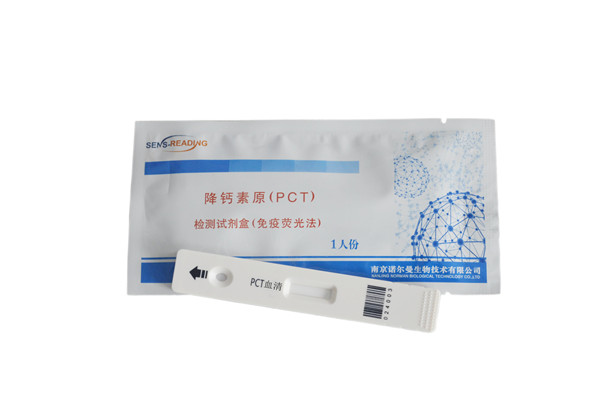 Clinical Significance:
1. PCT is a powerful auxiliary tool for infectious diseases diagnosis, stratification,
therapy and prognostic evaluationas well as reasonable use of antibiotics.
2. Doctors should raise attention degree towards PCT test. Start diagnosis and
treatment monitoring from patient suspected of infectious diseases enter hospital,
lay the foundation for the subsequent treatment.
Advantage
1. Sample type : serum.
2. High sensitivity: 0.05ng/ml.
3. Wide linear range: 0.05 ∽ 100ng/ml.
4. Strong anti-interference ability.
5. Good repeatability: CV<15%.
6. Single sample test or batch test.
Applicable department: Pediatrics, ICU, emergency, respiration, surgery, ward, internal medicine, oncology, hematology.
Performance indicators:
1. Detection limit:<0.05ng/ml
2. Linear range:0.05-100ng/ml,the linear correlation coefficient r should not
be less than 0.9900 in this range.
3. Accuracy should be in accordance with one of the following requirements:
a) The relative deviation of the measurement results should not be greater
than 20% when used reference substance as a sample for testing.
b) When using comparative test method to test the kit, there should be that
the results of the correlation coefficient r≥0.975, relative deviation≤20%.
4. Repeatability:CV≤15%.
5. Difference between batches:CV≤15%.
Intended Use
The Procalcitonin(PCT) Whole Blood Kit (Immunofluorescence) is primarily for the in vitro quantitative determination of PCT content in human serum.
Procalcitonin(PCT),also known as the Pre calcitonin, is composed of 116 amino acids. Its molecular weight is approximately 12.7kD. PCT is expressed by neuroendocrine cells (including C cells of the thyroid gland, lung and pancreas), and is decomposed into (immature) thyrocalcitonin, carboxyl terminal peptide and amino terminal peptide by enzyme digestion. Only a small amount of PCT is contained in the blood of healthy people. PCT will be significantly increased after bacterial infection. PCT is a specific marker of inflammatory disorder with bacterial infection and a significant indicator of SIRS and sepsis caused by bacterial infection, especially for severe sepsis and septic shock sepsis. PCT plays an important role in differentiating inflammatory disorder caused by infection and non-infection (such as autoimmune inflammation and acute rejection after transplantation). Meanwhile, PCT detection is of great significance in guiding the rational use of antibacterials, evaluating therapeutic effect and shortening the using time of antibacterials.
2. Test Principle
The assay is a double-antibody sandwich immunoassay for quantitative determination of PCT concentration based on immunofluorescence technology. Add the sample to the sample well of the cartridge. Through chromatography, the sample reacts with the fluorescent latex particles coated with PCT monoclonal antibody I on the conjugate pad. The complex spreads ahead along the nitrocellulose membrane captured by PCT monoclonal antibody II on the test line. The more PCT the sample contains, the more complexes the test line accumulates. The intensity of fluorescent antibody signal reflects the amount of captured PCT. The immunofluorescence quantitative analyzer produced by our company can detect the concentration of PCT in the sample.
Related test kits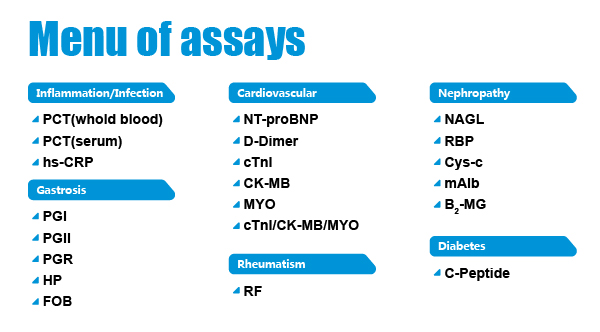 Inflammation/Infection: PCT(whole blood), PCT (surum), hs-CRP
Cardiovascular:
NT-proBNP, D-Dimer
cTnI, CK-MB, MYO
Nephropathy: NAGL, RBP,Cys-c, mAlb, B2-MG
Gastrosis: PGⅠ, PGⅡ, PGR, HP, FOB
Rheumatism: RF
Diabetes: C-Peptide
About us:
1. Nanjing Norman Biological Technology Co., Ltd is dedicated to R&D and manufacturing
of automated chemiluminescence system. Founded in 2008, Norman biological has been
upholding the idea that R&D shapes future ,and concentration determines success.
2. Ever since the beginning, Norman has been focusing on developing and manufacturing
chemiluminescence instruments and reagents.
3. Norman's manufacture center is located in the Yuhua District and owns an over 2,000m2
GMP-approved clean workshop.
4. The R&D base, which is over 2,000m2 , is located in state-level new Jiangbei district.
Now there are over 100 R&D engineers, 40% of which hold a PhD or master's degree.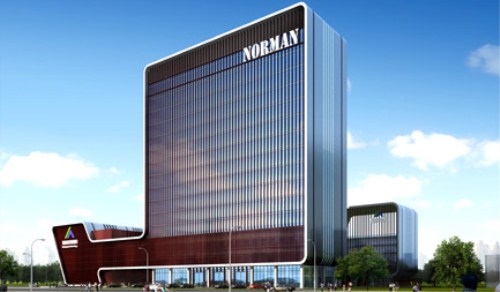 Agent Wanted: If you are interested in working with us, please feel free to contact.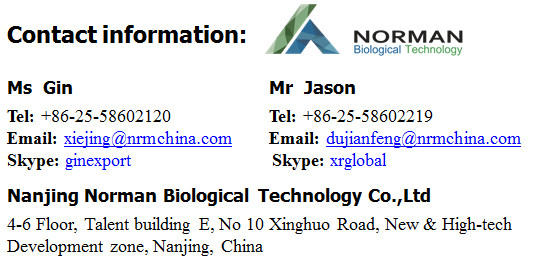 Why us:
1. Manufacturer and Exporter for nearly 10 years with self R&D Research Center;
2. Professional After-Sale service with On-site support worldwide;
3. CE/ISO13485 Certifications
4. OEM and ODM are available !
Get the latest price? We'll respond as soon as possible(within 12 hours)