Chemiluminescence Immunoassay Instrument For Acute Myocardial Infarction
Chemiluminescence Immunoassay Instrument For Acute Myocardial Infarction
Brand : Norman
Product origin :Nanjing
Delivery time :Two weeks after payment
Supply capacity : 1000 units/per year
Chemiluminescence Immunoassay Instrument For Acute Myocardial Infarction
OEM Medical Supplies Chemiluminescence Immunoassay Analyzer:
Self-developed antigens and self-manufactured antibodies that ensures minimized intra and inter batch difference.
Instrument parameters:
1. Testing speed: 100 samples/ hour
2. Sample capacity: 36
3. Reagent capacity: 9
4. Refrigeration function for samples and reagents
5. Testing Mode: Batch, STAT, special samples.
Chemiluminescence Immunoassay Instrument For Acute Myocardial Infarction:
Chemiluminescence Analyzer: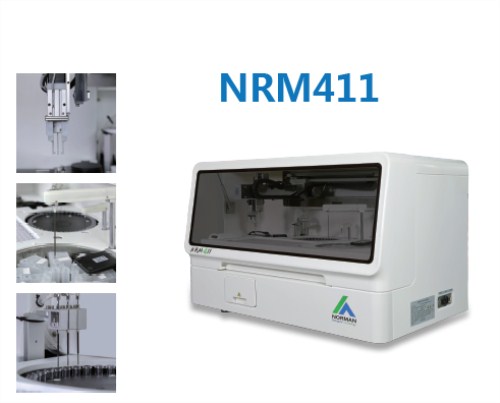 1. Upgraded version, independent research and development.
2. Accurate testing result, more than 99% correlation with main stream Europe-Amefican products.


Instrument parameters:
1. Testing speed: 100 samples/ hour
2. Sample capacity: 36
3. Reagent capacity: 9
4. Refrigeration function for samples and reagents
5. Testing Mode: Batch, STAT, special samples.
Structure of NORMAN Automated CLIA System: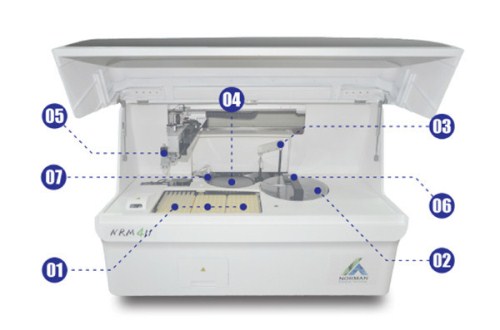 1. Cuvette loading zone:

252cuvettes can be loaded one time and replaced at any time during testing.
Memorize numbers and location of cuvettes.
2. Reagent zone and sample zone:
Reagent zone: Power supply independent, magnetic beads levitation systems, refrigeration system is loadedin reagent area to keep reagent stable, the radio frequency identification technology is adopted in kit information (calibration curve, time of validity, sample type).
Sample zone:Sample information can be entered manually or scanning recognition.
Three testing mode: Batch, STAT, special sample test
Sample editing mode: Hospital LIS System、Manual editing、Automatically software generating.
3. Sampling needle:
Automatic level detection,stirring mixing system,sampling needle made of titanium alloy material has good anti-collision function, single needle loads reagents, samples and magnetic beads. Inside and outside wall cleaning, on outer wall of needle is coated by Teflon, high polish,ensure cross-infection does not exceed 10-5.
4. 04.Incubation zone:
36.5±0.5ºC constant temperature incubation.
Incubation abnormity warning, magnetic separation components (independent magnetic separation).
5. Manipulator (exclusive design):
Mechanical grip: grab sample tube, avoid empty or partial catch.
Detection rod:automatic detection of sample tube,evaluate whether sample tube is located accurately.
6. Card reader:
Automatic identification of reagent Kit (type, curve, reagent position), no need manual code scanning.
07. Magnetic separation components;
Magnetic separation device closely combines with sample tube, Nanjing Norman patented technology.
Specification:
| | |
| --- | --- |
| 01. Power: | 02. AC220±22V 50±1Hz |
| 03. Input power: | 04. 500VA |
| 05. Repeatability: | 06. CV≤5% |
| 07. Linear: | 08. linear correlation coefficient (r)≥0.99 |
| 09. Volume: | 10. 1180mm×770mm×785mm |
| 11. Weight: | 12. 150.0kg |
| 13. Use: | 14. Indoor |
| 15. Temperature range: | 16. 10~30ºC |
| 17. Relative humidity: | 18. ≤70% |
| 19. Atmospheric pressure: | 20. 85~106kpa |
Total Assays: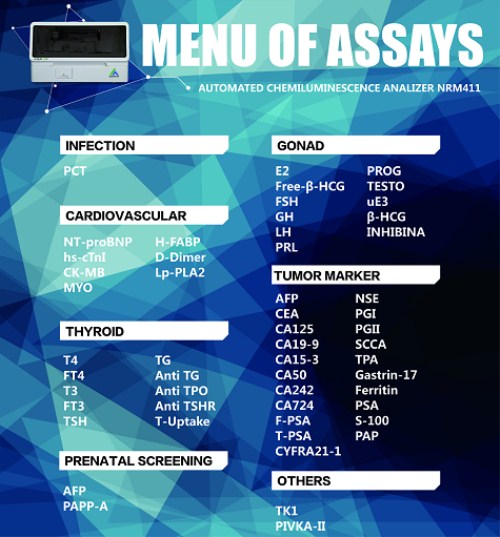 About us:
1. Nanjing Norman Biological Technology Co., Ltd is dedicated to R&D and manufacturing of Fluorescence immunoassay analyzer (FIA) and automated chemiluminescence system (CLIA). Founded in 2008, Norman biological has been upholding the idea that R&D shapes future ,and concentration determines success. Ever since the beginning, Norman has been focusing on developing and manufacturing FIA and CLIA instruments and reagents.
2. Norman's manufacture center is located in the Yuhua District and owns an over 2,000m2 GMP-approved clean workshop. The R&D base, which is over 2,000m2 , is located in state-level new Jiangbei district. Now there are over 100 R&D engineers, 40% of which hold a PhD or master's degree.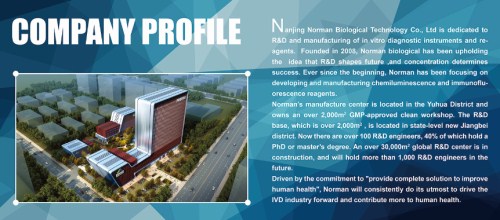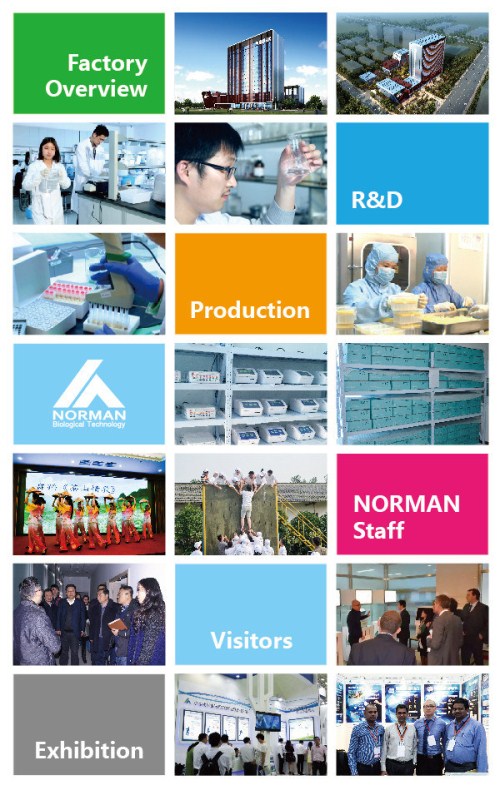 Please feel free to give your inquiry in the form below. We will reply you in 24 hours.