Cardiac Rapid Read NT-Probnp Test Kits with POC testing analzyer
Cardiac Rapid Read NT-Probnp Test Kits with POC testing analzyer
Brand :Norman
Product origin :China
Delivery time :In one month
Supply capacity :10000/month
Cardiac Rapid Read Nt-Probnp Test Kits For Poct NT-proBNP:
1. Routine indicator of heart failure diagnosis and curative effect monitoring
2. Optimal indicator for early detection of heart failure
Cardiac Rapid Read Nt-Probnp Test Kits For Poct
Methodology:Fluorescence Immunoassay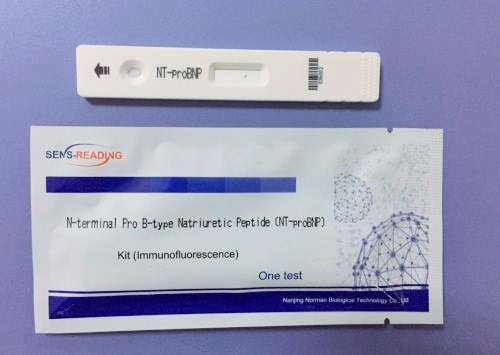 Intended Use
N-terminal Pro B-type Natriuretic Peptide (The test kit is mainly for the in vitro quantitative determination of NT-proBNP) in human serum.
NT-proBNP is an inactive N-terminal fragment after BNP splits, which is secreted by the left ventricle when the volume load and pressure load of the cardiac muscle increase. NT-proBNP can be used to evaluate cardiac systolic dysfunction, diastolic dysfunction and ventricular wall segmental motion coordination. It has high sensitivity and negative predictive value; NT-proBNP can also be used to early detect heart failure (HF), evaluate the efficacy of heart failure drugs, estimate the prognosis of patients with heart failure and discriminate breathing difficulty caused by heart failure or other reasons; besides, NT-proBNP can be used as risk assessment index of acute coronary syndrome (ACS).
Test Principle
The assay is a double-antibody sandwich immunoassay for quantitative determination of NT-proBNP concentration based on immunofluorescence technology. Add the sample to the sample well of the cartridge. Through chromatography, the sample reacts with the fluorescent latex particles coated with NT-proBNP monoclonal antibody I on the conjugate pad. The complex spreads ahead along the nitrocellulose membrane captured by NT-proBNP monoclonal antibody II on the test line. The more NT-proBNP the sample contains, the more complexes the test line accumulates. The intensity of fluorescent antibody signal reflects the amount of captured NT-proBNP. Immunofluorescence quantitative analyzers produced by our company can detect the concentration of NT-proBNP in the sample.
Package:
1. Test card: Aluminum foil pouch 1pc/bag, desiccant
2. Package size: 25pcs/box
NT-proBNP Serum Specs:
| | |
| --- | --- |
| Methodology | Fluorescence Immunoassay |
| Specimen | serum |
| Measuring range | 40-35000pg/ml |
| Cut-off value | 40pg/ml |
| Reaction time | 15 minutes |
| Shelf life | 12months |
Related products

Inflammation/Infection: PCT(whole blood), PCT (surum), hs-CRP
Cardiovascular: NT-proBNP, D-Dimer cTnI,CK-MB, MYO
Nephropathy: NAGL, RBP,Cys-c, mAlb, B2-MG
Gastrosis: PGⅠ/ PGⅡ/ PGR/ HP/ FOB
Rheumatism: RF
Diabetes: C-Peptide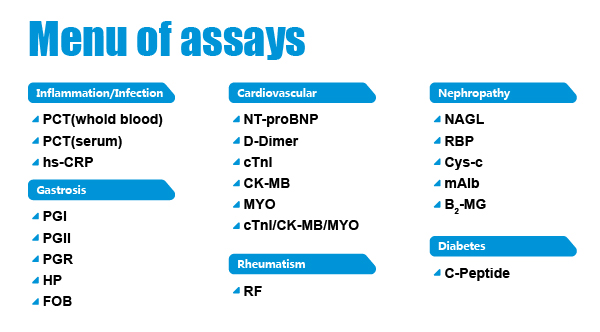 Agent Wanted: If you are interested in working with us, please feel free to contact.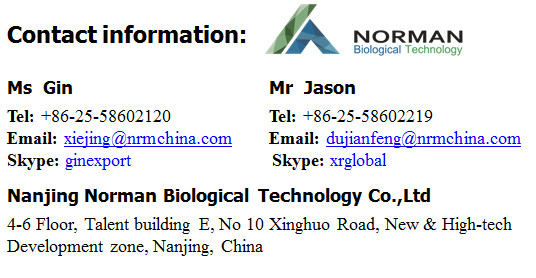 Get the latest price? We'll respond as soon as possible(within 12 hours)