Autoantibody To Thyroglobulin TGAb Kit Chemiluminescence Immunoassay
Autoantibody To Thyroglobulin TGAb Kit Chemiluminescence Immunoassay
Brand :Norman
Product origin :Nanjing
Delivery time :Two weeks after payment
Supply capacity :100,000 units/month
Thyroid Autoantibody to Thyroglobulin (TGAb) Chemiluminescence Immunoassay Reagent:
Methodology: Chemiluminescence Immunoassay
Thyroid Autoantibody to Thyroglobulin (TGAb) Chemiluminescence Immunoassay Reagent:
Methodology: Chemiluminescence Immunoassay
Product Show: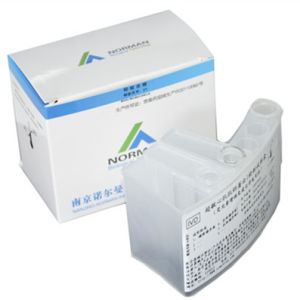 TGAb:
Autoantibody To Thyroglobulin (TGAb) Kit (Chemiluminescence Immunoassay) is intended for in vitro quantitative determination of autoantibodies to thyroglobulin (TGAb) content in human serum, based on NRM411 system.
Thyroglobulin (TG) is a 660 kDa, dimeric protein produced by the follicular cells of the thyroid, and a precursor of the thyroid hormones thyroxine (T4) and triiodothyronine (T3), which is stored in the thyroid follicular cavity. TGAb content in serum is a specific index for the diagnosis of autoimmune thyroid disease.
Clinical Significance:
Elevated serum concentrations of TGAb are usually found in subjects with autoimmunity-based thyroiditis. 80%~90% of patients with chronic thyroiditis and 60% of patients with Hyperthyroidism are found with elevated serum concentrations of TGAb. The highest positive incidence of TGAb is found in Hashimoto's thyroiditis, and secondarily found in primary hypothyroidism. Thus, the test of TGAb has great significance for the diagnosis of Hashimoto's thyroiditis and primary hypothyroidism.
Test Principle:
The assay is a sandwich immunoassay for quantitative determination of TGAb concentration based on chemiluminescence immunoassay technology. The Magnetic Microbeads Reagent contains protecting reagents and magnetic microbeads that are coated with biotin labeled TG antigen.
The Antibody Reagent contains the protecting reagents and acridinium ester labeled goat anti-human IgG antibody. Auxiliary Reagent contains protecting reagents. Sample, calibrator or control is mixed with Magnetic Microbeads Reagent, Antibody Reagent and Auxiliary Reagent to form a sandwich complex. After incubation and automatic magnetic separation conducted by the instrument, trigger solutions are added to generate chemiluminescent reaction and the relative light units (RLUs) are measured by a photomultiplier. A proportional relationship presents between the concentration of TGAb in the sample and the RLUs detected by the NRM411 system.
Packages: 100 Tests/Box, 200 Tests/Box.
Storage and Stability:
1. Sealed: Stable until the expiry date when stored at 2-8ºC.
2. Opened: Stable for 4 weeks for reagents. Stable for 1 week after dissolved for the control material. To ensure the kit's best performance, it is recommended to place opened kits in the refrigerator if it's not going to be used on board during the next 12 hours.
3. Do not use it beyond the expiration date.
Calibration and Traceability:
1. Calibration: Each batch of kits contains specific calibration information, stored in the Calibration Card.
2. Traceability:The TGAb assay is traceable to an international reference reagent (NIBSC code: 65/093).
Related Products: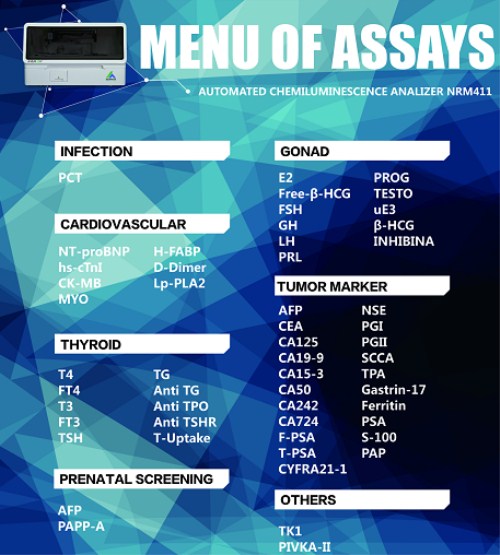 About us:
Nanjing Norman Biological Technology Co., Ltd is dedicated to R&D and manufacturing of automated chemiluminescence system. Founded in 2008, Norman biological has been upholding the idea that R&D shapes future, and concentration determines success. Ever since the beginning, Norman has been focusing on developing and manufacturing chemiluminescence and immunofluorescence reagents.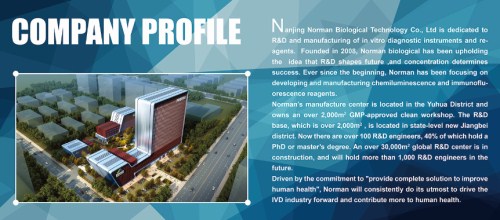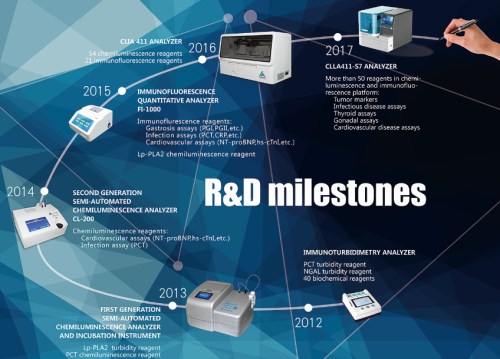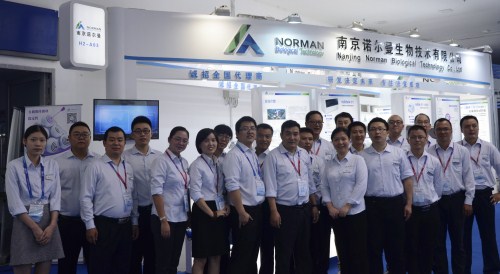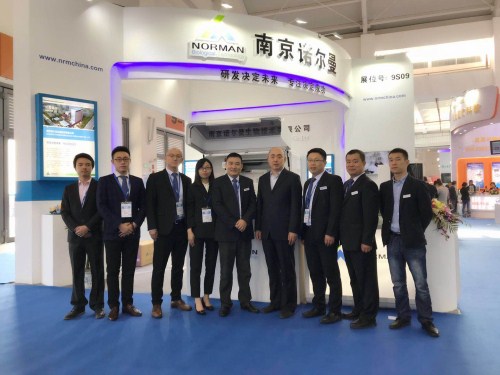 Norman's manufacture center is located in the Yuhua District and owns an over 2,000m2 GMP-approved clean workshop.The R&D base,which is over 2,000m2,is located in state-level new Jiangbei district.Now there are over 100 R&D engineers, 40% of which hold a PhD or master's degree.

Agent Wanted: If you are interested in working with us, please feel free to contact.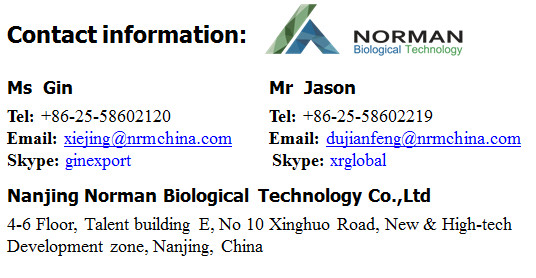 Why Us:
1. Manufacturer and Exporter for nearly 10 years with self R&D Research Center;
2. Professional After-Sale service with On-site support worldwide;
3. CE/ISO13485/SGS/RoHS Certifications!
OEM and ODM are available !
Get the latest price? We'll respond as soon as possible(within 12 hours)